EXCLUSIVE PHOTOS: Tila Tequila Went Topless During Concert Attack - Rocks, Beer Bottles & Boobs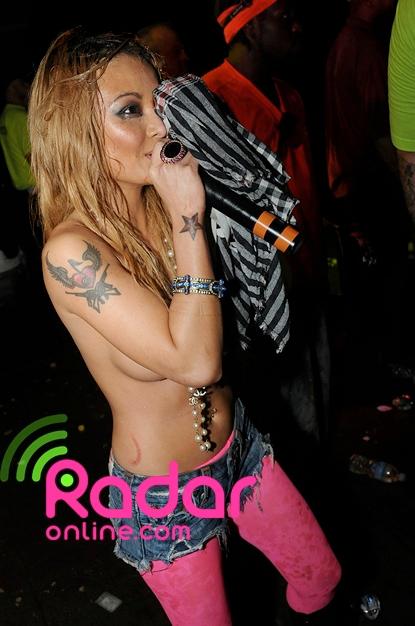 Tila Tequila bared her boobs before the bizarre onstage attack over the weekend, in which a group of clown makeup-wearing concertgoers hurled rocks, bottles and even "human poop" at the reality starlet.
Only RadarOnline.com has the exclusive photos of before - and - after the ugly incident.
Tila was making her hip-hop debut at the Gathering of Juggalos, a music festival in Illinois, when fans wearing clown makeup -- supporters of the band Insane Clown Posse -- began throwing projectiles at the stage.
Article continues below advertisement
"Everyone started booing," Tila says in a new interview.
"I was like, 'Alright, this is a violent and tough crowd,' so I went out there just to try and have fun... But immediately before I got up there, things were being thrown, there was so much stuff being thrown, besides just beer bottles."
Tequila says at one point "human poop" was thrown at her.
A topless Tequila was soon taken off stage with visible cuts and bruises and blood streaming down her forehead -- more photos here.
Tequila, most famous for her reality show A Shot At Love, posted a Twitter Saturday, saying she would sue the festival, which is organized for fans of the hip-hop group Insane Clown Posse.
She says, "Because it's been such an underground type of concert and I'm glad that I could bring this to mainstream and expose them for what they do to people and women and that it's not OK."
RELATED STORIES: