Exclusive
EXCLUSIVE PHOTOS: Katy Perry Gatecrashes High School Prom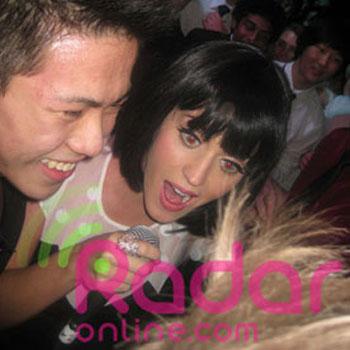 Katy Perry shocked a group of Australian high school students Friday night when she turned up — unannounced — to their prom!
And RadarOnline.com has the exclusive photos of Katy's gate-crashing performance.
The Californian Gurls diva added some serious star power to the Melbourne High School formal at the Grand Hyatt — the same hotel where she was staying during her tour Downunder.
"It was towards the end of the night and everyone was having a good time," explained student Stefan Uzelac.
Article continues below advertisement
"Then Katy Perry decides to walk in and crash our formal!"
The hit-maker entered through a back door of a function room when she heard her chart-topping hit California Gurls playing.
As stunned students cottoned onto their impromptu guest, Perry grabbed a microphone and began singing along to her track.
"She appeared slightly drunk and was stumbling a little," student Adi Kedar told RadarOnline.com.
"As she grabbed the microphone, she was surrounded by highly excited students and began singing along the the soundtrack.
"She was dancing and laughing with students until the end of the song when she was subtly whisked away by her security guards.
"Everyone went nuts and it was the perfect ending to our evening."
Perry spent just 10 minutes at the event, but it was enough to create a lasting impression.
Later in the night Perry tweeted her adventures: "I totes just crashed a prom!"