Exclusive
EXCLUSIVE PHOTO: Sandra Bullock & Jesse James Spend Time Together - Again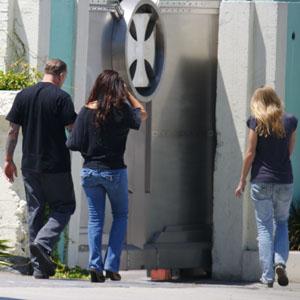 Sandra Bullock quietly re-united with Jesse James and his teenage daughter Chandler James on Monday, one day after she taped an appearance at the Teen Choice Awards in L.A., and RadarOnline.com has exclusive details of their top-secret meeting and the only photo of their rendezvous.
The three of them were snapped from behind going into his West Coast Choppers offices in Long Beach, California, but the Oscar winner actually spent the whole day with her former husband.
Article continues below advertisement
James who broke Bullock's heart after he cheated-on her with several women has desperately been trying to get back with her and she's definitely talking to him again.
Now the photo has sparked debate as many insist it is not Sandra, who is notorious for maintaining her privacy. But the photographer who took the photo told RadarOnline.com that he saw her face and it was Bullock.
One erroneous report said it couldn't be Bullock because she was at the Teen Choice Awards. But that show was filmed Sunday and the photo was taken Monday. One thing is certain: Sandra has said she wants to stay involved in the lives of Jesse's children.
Photographer Karl Larsen - who took the picture - told RadarOnline.com: "There was no doubt in my mind it was Sandra, Chandler and Jesse.
"Jesse took Sandra and Chandler to his nearby restaurant Cisco Burger for breakfast and they left at around 11.45am before walking the short distance to West Coast Choppers.
"He held the door open for Sandra and Chandler as they left and they all looked very relaxed and chatted amicably with one another.
MORE ON:
Janine Lindemulder
Article continues below advertisement
"They all stayed inside his offices until after 3pm before leaving in a black sports car which then drove back to his house on Sunset Beach.
"Jesse was driving the car, Sandra was sitting in the passenger seat, while Chandler sat in the back."
The Oscar winning actress went into hiding before divorcing her husband in late June. The couple married in July, 2005.
In recent months, James announced that he is moving his family to Austin, Texas, and has purchased a $2 million mansion close to where Bullock already has a home.
He recently won a custody battle with his former porn star wife Janine Lindemulder allowing him to take their 6-year-old daughter Sunny to Texas along with his son Jesse Jr and daughter Chandler from another marriage.
Bullock adopted a baby boy, Louis Bardot, earlier this year and has been looking after him in New Orleans over the summer.
Sandra Bullock Rules Out Getting Back Together With Jesse James