EXCLUSIVE: Out-Of-Control Truck That Killed 8 In Race Had Recording Device That May Have Captured The Massacre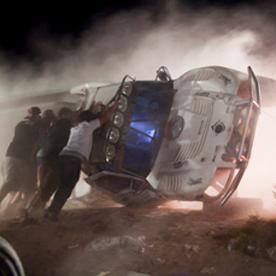 The driver of an off-road truck that lost control of the wheel, jumped off the race track and smashed into a group of onlookers standing just feet away, had a recording system that would have captured the grisly scene as it happened, RadarOnline.com has exclusively learned.
"We understand that the vehicle was equipped with recording devices and cameras when the driver lost control," California Highway Patrol Officer Joaquin Zubieta tells RadarOnline.com. "It's ordinary for these drivers to record their races. We will be looking at the video to assist us in determining what happened exactly what happened."
Article continues below advertisement
The incident took place Saturday night at 7:42 pm during an off-road truck race called the California 200, high up in the Mojave Desert about two hours east of Los Angeles.
Authorities tell RadarOnline.com Brett Michael Sloppy, 28, of San Marcos, was driving the car that smashed into onlookers.
"Six people were dead as we arrived on the scene," Officer Zubieta tells us. "Nine other people were seriously injured and airlifted to nearby hospitals. Unfortunately, two of those individuals later died. It's truly a tragic accident."
Authorities are currently investigating how the ironically-named Sloppy, who was not injured in the wreck, lost control of the vehicle and could have answers shortly.
For the families of the dead, the injured and the traumatized eyewitnesses, those answers can't come fast enough.
"It was complete chaos," John Payne told the AP, adding that at least one of the victims was decapitated.
"Bodies all over the ground, people screaming," is how Niky Carmikle described it.