Exclusive
EXCLUSIVE: Octo-Mom's Lawyer Takes Ownership Of Her Home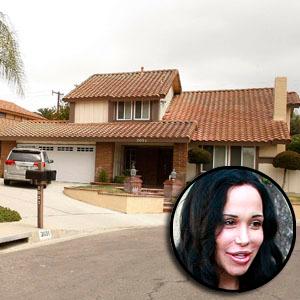 Octo-Mom's lawyer Jeff Czech has taken over the title of her home, RadarOnline.com has learned exclusively.
The move comes as the mom of 14 is facing a new financial crisis that threatens to drive her into bankruptcy, one source familiar with the situation told RadarOnline.com.
A review of public records by RadarOnline.com shows that the title to Nadya Suleman's home in La Habra, California was transferred from her father, Ed Doud, to Harmony Enterprises, Inc. which is owned by Czech.
Article continues below advertisement
The transfer took place on April 15, 2010.
That's the same day when reports surfaced that Suleman staved off foreclosure as the mortgage holder, Amer Haddadin, agreed to a six-month extension on a $450,000 balloon payment that was due on the loan.
Nadya's father owned the home at the time and is responsible for paying the mortgage.
As Octo-Mom avoided foreclosure, The Huffington Post reported that Czech was responsible for negotiating the deal that granted an extension on the mortgage payment.
But one thing that was not reported was the title of the house was transferred at that time from Doud to Czech's company.
Title to real estate is ownership of the property.
Suleman is rapidly running out of money and her financial situation grows worse every day, the source told RadarOnline.com.
PHOTOS: Octo-Mom Promotes PETA
She has written a book, as RadarOnline.com reported exclusively, but no publisher has expressed interest in buying it.
Article continues below advertisement
A once-hoped-for reality TV series has not materialized and the financial burden of supporting 14 children is now a harsh reality.
When the deadline for payment of the balloon loan was extended in April, Czech told the press that Octo-Mom had numerous financial opportunities. But so far none have come to fruition.
Doud bought the home where Octo-Mom lives from Haddadin last year for $565,000.
RELATED STORIES: