Exclusive
EXCLUSIVE: Michael Lohan Changes His Mind, Says Lindsay Will Benefit From Early Rehab Release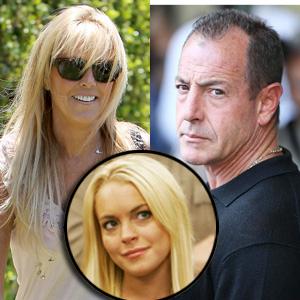 Well, Hell has frozen over.
Michael Lohan says he agrees with his ex-wife Dina that their daughter Lindsay should be released early from rehab.
In an exclusive statement to RadarOnline.com, Lohan elaborated on why he's changed his mind.
"After reading your post about Lindsay's release and plans thereafter, I have to say that I agree with her lawyer, Shawn Chapman Holley, the doctors and (I can't believe I'm saying this) even Dina, that Lindsay SHOULD be released from UCLA's drug program," Lohan said.
Article continues below advertisement
Michael said he feels UCLA's program "does NOT offer the treatment Lindsay needed or needs."
"What Judge Revel did, was basically sentence Lindsay to more jail time because UCLA's program is like any other medical unit in jail or prison," Lohan told RadarOnline.com.
As RadarOnline.com reported exclusively on Wednesday, Matthew Wilder, the director of Lindsay's upcoming movie Inferno, said he's been receiving "positive and upbeat" emails from the actress, 24. But Michael says Lindsay needs to stay away from the entertainment industry while she recovers.
"Lindsay doesn't need to be communicating with Matthew Wilder about his exploitive and provocative movie while she is in rehab. She is supposed to be focusing on herself, NOT her career," he told RadarOnline.com.
"Yes, Lindsay should get out of UCLA, BUT she NEEDS to go into a program and get FAMILY therapy, to resolve the issues that caused her problems," he said.
Lindsay is currently finishing up day 17 of her court imposed 90-day program. However, as RadarOnline.com has previously reported, the troubled starlet is expecting to be released sooner than later.
Article continues below advertisement
Lohan's camp had expected her to be sprung on Thursday, but after a meeting with D.A. Dannette Meyers and Lohan's lawyer Shawn Chapman Holley in Judge Elden Fox's chambers, the next hearing to discuss the actress has been scheduled for Wednesday, August 25, and will be "to discuss Lindsay's treatment," a source close to the case told RadarOnline.com.
Lohan was admitted to the UCLA earlier this month after being released from jail, as part of her sentence for breaching the terms of her probation order related to her 2007 DUI conviction.