Exclusive
EXCLUSIVE: Michael Jordan's Son Brags About Underage Splurge In Las Vegas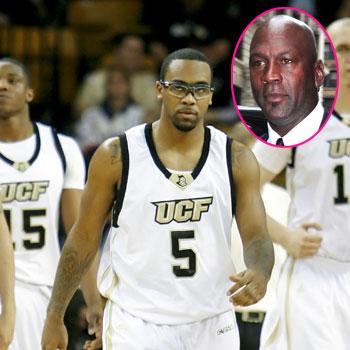 Michael Jordan's son Marcus hit the Las Vegas casinos and nightclubs last Friday to the tune of $50,000 – the problem is, he's underage at only 19-years-old.
Marcus took to his Twitter account to brag about what a high-roller he was while partying at Haze, a nightclub in the Aria Hotel and Casino City Center and RadarOnline.com has the Tweet.
"Last night was stupid…35k at Haze…Totals 50k something the whole day…Damn!!" Marcus tweeted. The damaging Twitter message was removed shortly after it was posted.
Article continues below advertisement
MGM Resorts International owns the Aria franchise and when contacted by RadarOnline.com spokesperson Yvette Monet said, "We do not comment on rumor or speculation about our guests."
Michael has been known as an avid gambler and in 1993 he admitted to having to cover $57,000 in gambling losses. He later appeared on 60 Minutes in 2005 where he again admitted that he had made reckless decisions.
"Yeah, I've gotten myself into situations where I would not walk away and I've pushed the envelope. Is that compulsive? Yeah, it depends on how you look at it," Michael said. "If you're willing to jeopardize your livelihood and your family, then yeah."
In the event that Marcus was gambling while underage, the Nevada Gaming Control Board's Kathy Faust told RadarOnline.com:
"We do not investigate underage gambling. It is required by law that the casino or institution in question turn in a report to the board if they suspect an unlawful act."
Michael's reps did not return a request for comment when contacted by RadarOnline.com.
A spokesperson at The Las Vegas Alcohol and Beverage Control Board told RadarOnline.com that underage drinking matters are "not their issue" but that they are instead "controlled by the police department."
Marcus and his older brother Jeffrey, 21, were in Las Vegas with their dad who was holding the Michael Jordan Fantasy Camp at The Mirage.