Exclusive
EXCLUSIVE: Levi Johnston Starts Filming Reality Show: Family Feud Getting Worse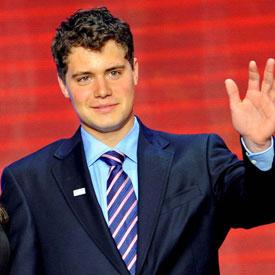 Bristol Palin and Levi Johnston have come to a custody agreement, but one thing they are not agreeing on is baby Tripp's possible TV appearances. Levi went back to Alaska in recent weeks to film his reality show RadarOnline.com has exclusively learned and his popularity is at an all-time low in the Palin household.
"Sarah can't stand Levi and it's gotten worse," a source close to the ex vice presidential candidate told RadarOnline.com. And he's also got big problems with Bristol, who does not want their son on Levi's reality show. "She is absolutely opposed to it," another source who is familiar with the show told RadarOnline.com.
Article continues below advertisement
Levi has big problems making the show interesting enough for someone to broadcast it.
Everyone connected to the production wants Tripp in the show to add another dimension to the reality program. But Bristol is saying no.
The original concept of the show was Levi running for mayor. But now other concepts have been floated, including Levin running for city council or completing his high school education by getting his GED.
No matter what concept is finalized, Levi is not going to have the support of the Palin family.
When Levi and Bristol announced they were engaged, Bristol's mom Sarah was polite publicly but furious behind the scenes, the source said. Then the engagement blew apart and Levi filmed a music video that the Palins felt was mocking them.
Engagement off.
"Sarah hates Levi," the source told RadarOnline.com about the former Mayor of Wasilla. "She thinks his desperate grasp at fame is pathetic and doesn't want him involving Bristol or Tripp in anything he does to try and get famous."