Exclusive
EXCLUSIVE: Jeremy London Calls Wife Melissa 'A Very Sick Person'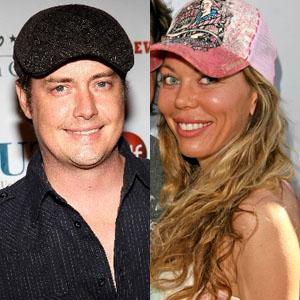 Jeremy London is striking back at his estranged wife Melissa after she told RadarOnline.com she believes London's kidnapping was actually a "drug deal gone bad."
Melissa, who was with Jeremy for part of the night that he says ended with him being taken hostage by three men and forced to smoke drugs, told RadarOnline.com that London was just looking to "score drugs."
"I believe it was a drug deal gone bad," she said from inside the Pasadena Recovery Center where she's being treated for a vicodin and xanax addiction.
Article continues below advertisement
So far, police in Palm Springs, California have arrested one man in London's kidnapping case and he remains in custody. Police have made no other arrests and the case seems to have come to a standstill. "We don't have sufficient evidene to to arrest anyone else at this time," Michael Jeandron, a rep for the Riverside County District Attorney's office told RadarOnline.com.
As for Melissa's claims that Jeremy concocted the kidnapping story, Jeandron said, "We review all the evidence in this case as it comes in and the case is currently an ongoing investigation."
But now London, who is also at the treatment center and shooting Celebrity Rehab 4, told RadarOnline.com that he's sick of Melissa's lies.
"I am done with her. Once again she is showing what a lying monster she is when the truth about her comes out," London told RadarOnline.com exclusively. "Put two and two together. She is a very sick person and she's no different sober than when she is high on drugs. She doesn't care one bit about the damage she continually does to our child."
Article continues below advertisement
EXCLUSIVE: Jeremy London's Kidnapper Gave His Wife A Ride Home!
Melissa and Jeremy have a three year old son together, Lyrik, who lives with Melissa's mother, Kayla Cunningham.
Kayla told RadarOnline.com that Lyrik has been living with her by court order for the last two years and confirmed that Melissa and Jeremy lost custody of their son because of their various domestic and drug abuse issues.
Both are now seeking treatment for their addictions, however, the couple's fragile relationship has hit the skids in a 'he-said, she-said,' war of words.
"Melissa got caught and now she's doing what she always does, which is try to make me look worse than herself," he said.