Exclusive
EXCLUSIVE INTERVIEW: Real Housewives of DC Hair Stylist Says 'Integrated Salon' Comment Not Racist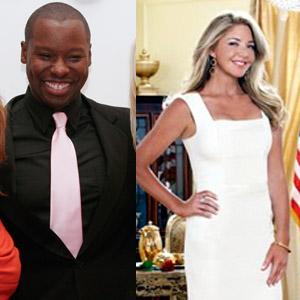 The premiere episode of the Real Housewives of Washington, DC showed Mary Amons telling Stacie Turner and hair stylist Ted Gibson that hair salons should be integrated; since the episode aired, the backlash against Mary has been intense, RadarOnline.com has learned.
Critics are saying that she is an insensitive racist, but Ted Gibson told RadarOnline.com exclusively that he disagrees with them.
"I didn't find it racist," Gibson told RadarOnline.com.
Article continues below advertisement
"Mary and I are really, really close friends. She was actually the first housewife that I met, even before she started to be on the show.
"As Stacie said, DC has been known as 'chocolate city.' My view on salons is that it doesn't matter who you go to in the salon you should be able to get your hair done."
He defended Mary's intentions, acknowledging that she had been drinking.
"When Mary was talking about having integrated salons I think that what she meant was just that not necessarily that they're segregated, but there is an element of white people go here, black people go here, Asian people go here, and I'm working on bringing that all to the same place."
Article continues below advertisement
Ted revealed to RadarOnline.com there were discussions he had with Mary that weren't shown on the episode.
"We had dialogue, of course they didn't show that, I've gotten so many comments on my face when she said that, I'm like, no, we talked about it."
Ted has done the hair of all five women and told RadarOnline.com what he likes about them: "I think that what's great about them is they all have an individual spark, some like extensions, some like their natural hair, everybody has color."
But he did have an opinion on a hair change he would like to happen.
"I would like to see Stacie with more hair," he said. "I think she could carry it. As the show progresses you'll see big changes with all of them. Big style changes."
The Real Housewives of DC airs on Bravo on Thursday at 9pm.