Exclusive
EXCLUSIVE INTERVIEW: Melissa Rycroft Says Chris L Would Be A Great Bachelor, Dishes On Bachelor Pad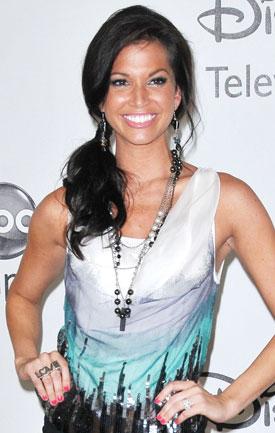 When Ali Fedotowsky told Chris L. that he wasn't the guy for her on The Bachelorette fans started clamoring for him to be the next Bachelor. In an exclusive interview with RadarOnline.com, former contestant Melissa Rycroft said, "he would be a fantastic Bachelor."
Mom-to-be Melissa, no stranger to the reality show's drama, told RadarOnline.com that she likes the cute 33-year-old from Massachusetts. "If they were going to pick anyone internally I don't think they had a better guy to pick from this season than Chris."
Article continues below advertisement
Ali and Roberto have stepped into the spotlight since their engagement was broadcast, and there are rumors that Ali will be a contestant on Dancing With the Stars, which as a former contestant on that show, Melissa totally supports. "I say if you want to pursue your career publicly then pursue it." She also had kind words for the couple. "I really hope Ali and Roberto work out, they seem like a great couple, they seem really happy and really excited that they don't have to hide anymore they can be out in the spotlight."
Melissa, who recently announced her pregnancy, teamed up with Fanta as a judge for the Search for the Fourth Fantana. Fans can log onto Fanta.com and vote for the winner of the contest where the grand prize winner will receive a cash prize and the opportunity to sign a contract to be included in Fanta's national advertising and marketing campaign as the fourth Fantana.
"My favorite flavor is the orange Fanta, just because it is all natural and caffeine free so I can enjoy it safely through the pregnancy, pre-pregnancy it was the strawberry," Melissa told RadarOnline.com. Melissa will be co-hosting the new upcoming show Bachelor Pad with Chris Harrison, where a household of former Bachelor and Bachlorette contestants compete for a $250,000 prize.
Article continues below advertisement
"It wouldn't be the Bachelor if it didn't involve tears at some point," Melissa dishes about the show. "Romances are made a whole lot quicker, friendships are made a whole lot quicker but they're also broken a whole lot quicker."
EXCLUSIVE: Bachelor Pad's Gia Allemand Stays Faithful, But Loses Boyfriend
As the host, she enjoyed watching the game being played out but said viewers are in for a surprise with the hotties in the house. "The old villains we know and love weren't necessarily villains this time and the good ones we saw last time kind of had a mischievous side to them. "I don't want to say the whole theme of the game is hooking up, but an aspect of the shows is hooking up. You like to see the superficial connections, you like to see the people who can't take their hands off each other and then they're fighting the next minute.
"There are a few people that make really solid romantic connections, that's the outcome. I'm genuinely excited about it and I think it is going to be huge."
Bachelor Pad premieres Monday, August 9 on ABC.