Exclusive
EXCLUSIVE INTERVIEW: Lindsay Lohan "Isn't A Meth Addict," Says Her Attorney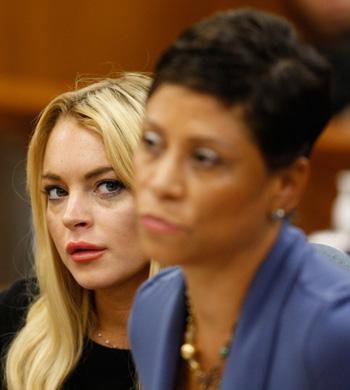 Lindsay Lohan is not "a meth addict," her attorney Shawn Chapman Holley tells RadarOnline.com in an an exclusive interview. Holley was adamant that a story claiming otherwise is a complete "fabrication."
With Lindsay awaiting her imminent release from jail, the report surfaced Sunday morning on another website that Lindsay was going to be treated for methamphethamine addiction when she begins her 90 day court-ordered rehab stay.
Article continues below advertisement
But speaking to RadarOnline.com exclusively, Holley says, "The report that my client, Lindsay Lohan is going to be treated for methamphetamine addiction is categorically false. It's a fabrication, 100%. I have never seen anything that implies that my client has an issue with methamphetamine abuse."
While Holley would not elaborate on what specific addition LiLo will be treated for, she said, " Lindsay isn't a meth addict. I have no idea where that came from, but I can tell you, it's false."
MORE ON:
Celebrity Justice
A source close to Lindsay tells us, "she is looking forward to being released. Lindsay doesn't want to walk out the front doors of the jail when she is released. She doesn't want to face the cameras."
The insider goes on to tell us, "Lindsay will most likely be released very late Sunday night, going into Monday morning. it is still unclear if Lindsay will go straight to rehab, or be able to spend 24 hours with her family and friends before checking in.