Exclusive
EXCLUSIVE: Inside Heidi And Spencer's Scam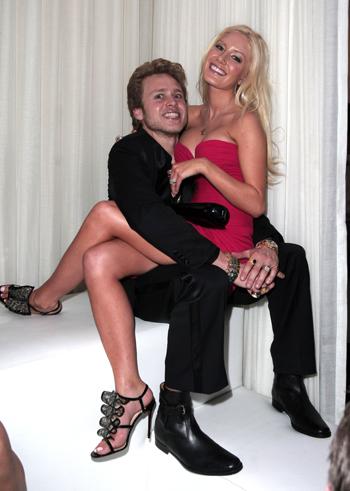 Spencer Pratt and Heidi Montag continue the spectacle that is their relationship and RadarOnline.com has exclusive details from inside their publicity-driven scam.
From the video of Spencer and a shadowy woman alleged to be Heidi Montag in Costa Rica, to the reports Spencer is shopping a sex tape of Heidi, to the stories of Heidi sobbing hysterically over the sex tape she doesn't want released, there is plenty of plot to their story line.
Article continues below advertisement
The thing is, it's all a scam.
First Lie: Spencer is blackmailing Heidi so he can release a sex tape of her.
Multiple legal experts have confirmed to RadarOnline.com that all parties involved in a sex tape must consent to the release or else it is a slam-dunk lawsuit for the party that didn't consent. If the tape is released, the party who hasn't agreed can sue for invasion of privacy and a host of other legal issues. And they are nearly guaranteed of a huge court victory.
That's the dirty little secret with celebrity sex tapes – the celebrity has to agree to its release and they always profit off the sales. Paris Hilton still gets a cut of her tape's profits as does Kendra Wilkinson. Kim Kardashian settled for $5 million after dropping her lawsuit against Vivid Entertainment.
So without Heidi's consent Spencer can't release the tapes.
Second Lie: Heidi and Spencer have been staying apart.
Article continues below advertisement
As RadarOnline.com exclusively reported, Heidi, Spencer and Cougar Zank have been living in the same house in Malibu all summer. Also, the separation and then divorce papers that Heidi filed didn't even have the same wedding date on them. Zank told RadarOnline.com in an exclusive interview that the split was "a show" and questioned if "reality is real."
Third Lie: Heidi is hiding out because she wanted to stay out of the limelight to focus on other things, like her movie career.
RadarOnline.com has learned exclusively that the real reason Heidi has been hidden in the past months is because she has been advised that photos sales of her would garner more income if the market wasn't saturated with images of her. Heidi didn't even surface for the candlelight vigil of her beloved plastic surgeon Dr. Frank Ryan who passed away in a car crash. The vigil was held less than a mile from her Malibu home.
Article continues below advertisement