Exclusive
EXCLUSIVE: Gary Coleman's Parents Fight His Ex's Claims To His Estate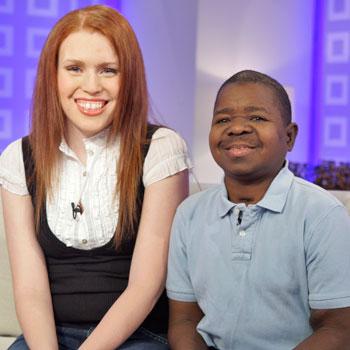 The battle over Gary Coleman's estate continues and his parents are taking the next step to ensure that their son's assets and interests are kept out of the hands of his ex-wife Shannon Price. In exclusive documents obtained by RadarOnline.com, Willie and Edmonia Coleman are asking that the court dismiss Shannon's request to recognize her union to Gary as a common law marriage.
EXCLUSIVE DOCUMENTS: Willia and Edmonia's Response to Shannon's Petition for Common Law Marriage
Article continues below advertisement
According to documents filed Wednesday in Utah, the Colemans deny that Shannon is Gary's surviving spouse and even question the validity of the circumstances surrounding how the couple met. They also question whether Gary and Shannon actually lived together after purchasing the home and if they continued to live together up until his death.
They are also asking for a legal conclusion as to whether or not the couple were capable of giving consent when they allegedly married in 2007.
EXCLUSIVE DOCUMENTS: Shannon Price Files For Common Law Marriage
RadarOnline.com broke the story that Shannon filed papers with the court last month asking that she be recognized as Gary's common law wife. Among the reasons Shannon's lawyer listed in the documents are: the couple continued a "romantic relationship" even after the divorce, they attended to each others physical, emotional and welfare needs, filed joint taxes, celebrated holidays together, and jointly owned and shared personal property.
MORE ON:
Celebrity Justice
Article continues below advertisement
Utah's common law marriage code states that five conditions have to be met: both parties are of legal marriage age and are able to give consent, are capable of being married, live(d) together as man and wife, assume(d) marital responsibilities and duties, and "held themselves out" as husband and wife and others perceive(d) them to be married.
If she is declared by the court as Gary's surviving spouse, she would ultimately be entitled to the late Diff'rent Strokes star's estate.
"I know Shannon is the only one to have pure intentions. Shannon wants to make sure Gary's bills are paid and there really isn't any money in the estate," Shielia Erickson, Shannon's rep, told RadarOnline.com. "No one will get any money out of this since it's not like there is a goldmine of money out there to get. All Shannon wants is Gary's ashes.
"If people really respected Gary's wishes and really cared about him, they would do what Gary wanted and that is to take care of Shannon and not make her life hard. Stop hurting Shannon." Erickson claims Price still cannot return to the house she shared with Gary to retrieve her belongings.
But the fight for the estate may not end with the Colemans and Shannon Price. Radaronline.com spoke with Victor Perillo, the Colemans' rep who told RadarOnline.com: "Anna Gray is also filing so probably all the attorney's are getting together to stop it. The lawyers are working together and the Coleman's filing was just a precautionary measure. The last time I talked to Jackman, he said no decision had been made of who would get Gary's estate. We all think it's going to be Anna Gray. The Colemans filed in case Anna doesn't get the estate, then they will; not Shannon. I know that they all think what Shannon is doing is totally unfair."