Exclusive
EXCLUSIVE: Gary Coleman's Ex-Wife Continues Legal Fight With His Family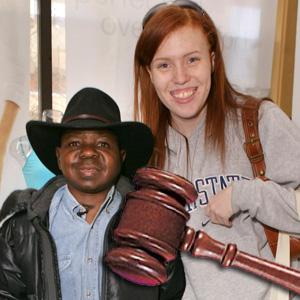 Gary Coleman's ex-wife Shannon Price continues her fight against his parents and his former manager Anna Gray who are objecting Price's claim to a common law marriage with the late Diff'rent Strokes star.
In legal documents obtained by RadarOnline.com, Price's lawyers say the Colemans and Gray have no basis for their filings and ask for the court to throw them out.
"As such, and pursuant to the arguments made in Petitioner's Memorandum in Support of Motion for Summary Judgment, Petitioner avers that neither the Colemans or Anna Gray have standing or the right to intervene in Petitioner's common law marriage determination," the papers read.
Article continues below advertisement
"Petitioner also requests that the Court strike the responsive pleadings filed by the Colemans and Anna Gray as they relate to the Petition."
Utah's common law marriage code states that five conditions have to be met: both parties are of legal marriage age and are able to give consent, are capable of being married, live(d) together as man and wife, assume(d) marital responsibilities and duties, and "held themselves out" as husband and wife and others perceive(d) them to be married.
Shannon's lawyer listed in the documents that: the couple continued a "romantic relationship" even after the divorce, they attended to each others physical, emotional and welfare needs, filed joint taxes, celebrated holidays together and jointly owned and shared personal property.
EXCLUSIVE DOCUMENTS: Shannon Price Files For Common Law Marriage
"Why do they have the right to object? Shannon and Gary are the only two people who had a common law marriage," Price's lawyer Todd Bradford told RadarOnline.com exclusively.
"This is between Gary and Shannon and not just anyone can come in and contest the petition. They don't have the standing to be a part of the petition.
"This is a common law marriage between Shannon and Gary and it's a different matter than the probate case for the estate. Yes, it has an effect on it, but they're still two separate actions."
RELATED STORIES: