EXCLUSIVE: Friends Remember Dr. Frank Ryan's Love Of Beloved Dog; Tweeted Pic Before His Death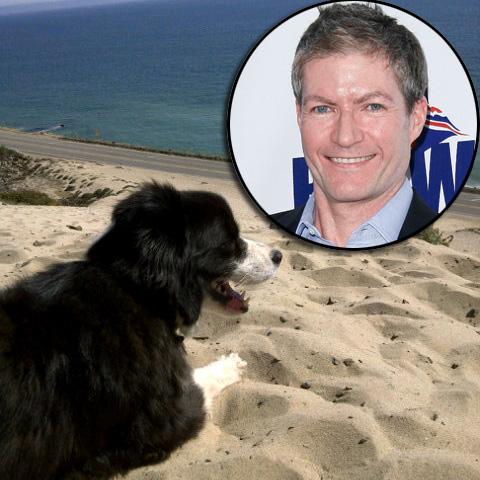 EXCLUSIVE UPDATE (9:52 am PST): Dr. Frank Ryan's beloved dog, Jill, suffered an eye injury and a paw injury in Monday's crash, RadarOnline.com has exclusively learned. The Border Collie, following the horrific accident that claimed Dr. Ryan's life, was transported to a pet emergency facility by the California Highway Patrol. Dr. Ryan Tweeted a photograph of his pet at the beach moments before the fatal crash.
Article continues below advertisement
Close friends of Dr. Frank Ryan, plastic surgeon-to-the-stars, have told RadarOnline.com that he would have been pleased that his beloved Border Collie dog Jill survived his fatal car crash.
Ironically, Dr. Ryan Tweeted a photograph of his pet at the beach just prior to his death.
Ryan had gone for a hike with his dog just before he got back in his jeep. As RadarOnline.com previously reported, Ryan's jeep careered of the side of Pacific Coast Highway at Deer Creek Road in Ventura County around 4:30 pm on Monday. He was pronounced dead at the scene. His dog survived the accident, and was taken to a local vet hospital for treatment.
His friend Playboy pin-up Devin Devasquez said: "I cannot believe that Frank was killed. He was a great guy and friend to my actor husband Ronn Moss and myself.
"Frank loved all animals, and he would have been pleased that his dog Jill survived the crash. It's just so sad.
"We attended his 50th birthday party at the Pony Bony Ranch in Malibu in May and he was in great spirits.
"He was surrounded by friends and family and he really enjoyed doing charity work for needy kids who got to visit his ranch.
Article continues below advertisement
"We both saw him at the Playboy mansion at the 4th of July party, and he discussed some television project with Ronn who appears in the Bold And The Beautiful.
DOCUMENT: Read The Police News Release On The Accident
"Frank was always so up-beat and he was a very well qualified plastic surgeon who loved what he did.
"He used to joke that my husband and I had made a 'pact with the devil' because of our looks but I told him if we ever got any work done then Frank was the person that we would go to.
"It's just such tragic news because a lot of people really liked Frank."
Rocker Vince Neil and his wife Lia Neil - also friends and patients of the plastic surgeon - likewise expressed shock Tuesday following news of his unexpected death.
Lia Neil told RadarOnline.com: "Dr Frank Ryan was an incredible person who will be deeply missed by both Vince and myself.
"He was both a good friend and a kind hearted person. He attended my birthday lunch in May and was in good spirits.
"As well as being a fantastic plastic surgeon he did a lot of charity work through his Bony Pony Ranch in Malibu and he really was a great animal lover who also loved helping under-privileged kids too.
"His death is a great loss and both Vince and I are very upset about this sad news."
An autopsy is expected to be performed Tuesday to determine the exact cause of death.