Exclusive
EXCLUSIVE FIRST PHOTOS: Lingerie Football League Finds Home On MTV2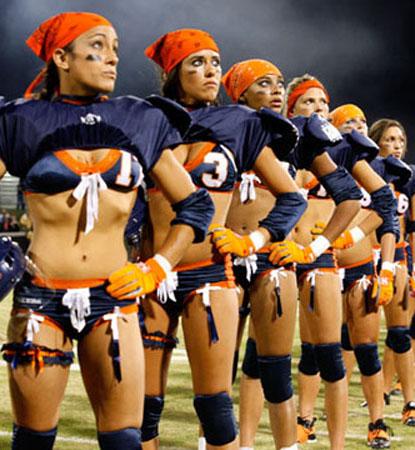 What's better than Friday night football? Friday night football played by gorgeous model athletes. RadarOnline.com is bringing you a first look at all the action on MTV2's new show "LFL Presents: Friday Night Football on MTV2."
Premiering on MTV2 on Friday, September 3 at 11pm ET/8pm PT, the series will showcase the beautiful women of the Lingerie Football League.
There will be twenty half-hour episodes plus the Western and Easter Conference Playoffs. Not only will viewers be able to catch the on-the-field action, they will get a sneak peak at what happens on the sidelines and in the locker room.
Article continues below advertisement
"We are excited to partner with the Lingerie Football League to bring all the feminine ferocity of 'Friday Night Football' to MTV2 every week," said Eric Conte, SVP, Programming and Production, MTV2. "We are eager to build upon all the excitement that the LFL and its hardcore fanbase have generated to date to deliver fast-paced head turning programming that fits perfectly within MTV2 fall programming slate."
The league is an extension of the Super Bowl halftime counter-programming special called the Lingerie Bowl, which was the most popular in history.
The game is 7-on-7 full-contact tackle football and the league has been seen in over 80 countries and plans to launch national teams in Europe, Asia and Latin America in 2013, 2012, and 2013, respectively.