EXCLUSIVE DETAILS: Tiger Woods Took $39 Online Course To Divorce Elin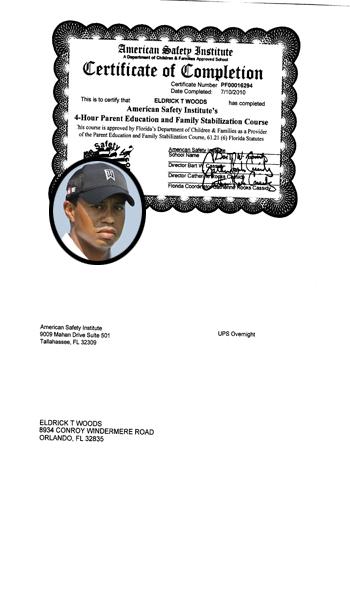 Tiger Woods enrolled in an online parenting course a month-and-a-half ago before finalizing his divorce with Elin on Monday, RadarOnline.com has exclusively learned.
"It's like traffic school but for parenting," said a rep for the American Safety Institute, a Department of Children & Families approved school.
EXCLUSIVE PHOTOS: First Pictures Of Tiger Woods In Sex Rehab
Tiger completed the four-hour parent education and family stabilization course, according to court documents.
Article continues below advertisement
The $39 course is a mandatory court requirement for any parent involved in a divorce, RadarOnline.com has learned.
Tiger gained his Certificate of Completion on July 10, but Elin did not complete her course until 16 August – last Monday.
According to the school's website, it "makes completing the mandatory divorce parenting class fast, easy and inexpensive."
The course covers a wide range of topics including effective co-parenting strategies, handling finances, the impact of divorce on children, new relationships and blended family issues.