Exclusive
EXCLUSIVE: Charlie Sheen Court Appearance Cost Taxpayers $20,000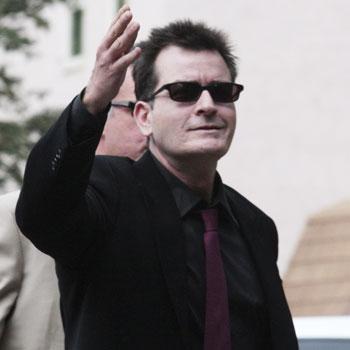 Charlie Sheen got a golden deal with no jail time in his domestic violence court case – and the taxpayers got the shaft.
RadarOnline.com has learned that Sheen's recent court appearances in Aspen cost local authorities $20,000.
And the multi-millionaire actor might be permitted to check-in and out of Promises Treatment Center in Malibu just like a hotel!
Many legal observers believe that the star got off extremely lightly after he avoided jail time, pleading guilty to a misdemeanor assault in connection with his Christmas Day bust-up with estranged wife Brooke Mueller in Aspen on Monday.
Article continues below advertisement
Ironically, Sheen, who now pulls in a reported $2 million per episode for Two And A Half Men also left the Aspen authorities $20,000 out of pocket after only four appearances in court.
DOCUMENT: Police Affidavit From Sheen's Arrest
Police Department spokesperson Stephanie Desaro told RadarOnline.com: "It cost both the Pitkin County Sheriff's Department and the Aspen Police around $20,000 for his four appearances.
"The Aspen Police Department was in control of security outside the court, providing officers to deal with the media and things like that while the Sheriff's Department picked up the bill for the staffing inside the court building."
Charlie was all smiles as he entered the courthouse Monday blowing kisses to the media and fans but RadarOnline.com has learned that he still has not even paid his $198.50 penalty for his misdemeanor assault conviction.
Article continues below advertisement
As part of his sentence the actor was also ordered to do 30 days in Malibu's Promises Treatment Center plus 36 hours of anger management and three months probation.
According to Aspen Deputy District Attorney Arnold Mordkin it will be up to Promises Rehab Center to decide the conditions of his stay.
He told RadarOnline.com: "The time is 30 days - Promises can decide if it is 'in house' or 'out of house' treatment.
"Mr Sheen will also be entitled towards credit towards the 36 hours of anger management as he has already undergone counseling in connection with the case - this provision was included in the court order."
Two and a Half Men is due to start filming again Friday.