Elin Nordegren Breaks Silence On Tiger Scandal: 'I've Been Through Hell'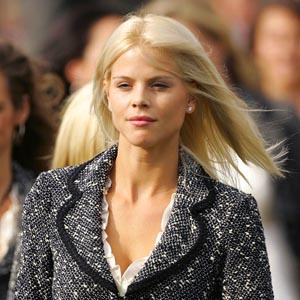 Tiger Woods' ex-wife Elin Nordegren, just two days after her divorce became final, broke her nine-month silence in an exclusive interview with People Magazine Wednesday in which she said she's "been through hell" in dealing with the shock, dismay and heartbreak over her ex-husband's serial-cheating ways, RadarOnline.com has learned.
"I never suspected, not a one," Nordegren told the magazine of the multiple affairs. "For the last 3 and a half years, when all this was going on, I was home a lot more with pregnancies, then the children and my school."
Article continues below advertisement
Elin's first on-the-record interview with People confirms what RadarOnline.com was first to exclusively report - that Elin had no idea Tiger was sleeping around. As we previously reported, a source told us, "She never thought she'd be in this position. She had no idea that Tiger was cheating on her the entire time she was married."
RadarOnline.com also was first to report that the Swedish beauty was both "relieved and distraught" in wake of the divorce. Added our source, "She's so happy that it's over."
Speaking with People, Elin said, "I felt stupid as more things were revealed -- how could I not have known anything?
"The word 'betrayal' isn't strong enough. I felt embarrassed for having been so deceived. I felt betrayed by many people around me."
She continued, "I have been through the stages of disbelief and shock, to anger and ultimately grief over the loss of the family I so badly wanted for my children. I also feel stronger than I ever have. I have confidence in my beliefs, my decisions and myself."
Article continues below advertisement
Nordegren denied attacking Woods following their Thanksgiving dinner, as widely speculated in the media.
"There was never any violence inside or outside our home," she said. "The speculation that I would have used a golf club to hit him is just truly ridiculous. Tiger left the house that night, and after a while when he didn't return, I got worried and decided to look for him. That's when I found him in the car. I did everything I could to get him out of the locked car. To think anything else is absolutely wrong."
RadarOnline.com previously broke the news that Elin took a course at Rollins College this summer - something she stated on-the-record in the People article.
Nordegren, 30, told the magazine that her "immediate plan is for the kids and me to continue to adjust to our new situation" and that she's "going to keep taking classes, but her main focus is to try to... heal.
"Money can't buy happiness," she said. "Or put my family back together."
Article continues below advertisement
Nordegren, who said she will not be doing any other interviews, actually had kind words for her embattled ex, even conceding she'll eventually "have to come to forgiveness and acceptance of what has happened for me to go on and be happy in the future.
"I wish him all the best in the future, as a person and as an athlete," Nordegren said. "I know he is going to go down as the best golfer that ever lived, and rightfully so. I feel privileged to have witnessed a part of his golfing career."
Woods has reluctantly opened up to the press in the wake of the scandal, as he attempts to get back in the professional golf flow. The embattled athlete first publicly acknowledged his affairs with a vague statement on his Web site, then with a staged media event, and eventually a full-fledged press conference with reporters and media outlets grilling the golfer prior to the Masters Tournament.
The couple has two children: daughter Sam, 3, and son Charlie, 18 months.
One more question: After all she's been through, can the newly-single mother-of-two fall in love again?
"I believe in love because I've seen it," she said. "I've been there."