DVD Review: The Best of Classic British TV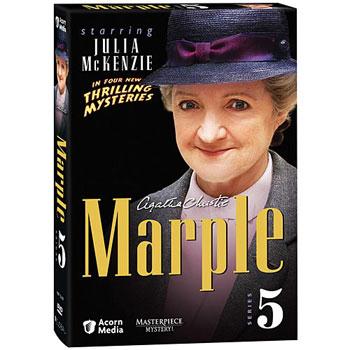 As American A-listers recover from the Emmy party circuit, the British are quietly invading -- and they're armed with their best TV shows.
Starting this summer, more than a dozen collections of classic British shows are arriving on DVD -- some for the first time on U.S. soil -- courtesy the Anglophiles at Acorn Media. The latest arrival, on August 31, is Agatha Christie's Marple, Series 5. The DVD also includes Agatha Christie's Garden, a new documentary about the personal side of England's favorite tweed-loving detective. Acorn looked to Christie to kick off its summer bonanza July 27 with Agatha Christie's Poirot, The Movie Collection, Set 5, which features three new films; and The Agatha Christie Hour, Set 1, which weaves revenge, intrigue and Marple's nose for crime in adaptations of five classic stories.
Article continues below advertisement
Movie Review : Going The Distance
Mysteries make way for power and passion in Monarchy: The Complete Series, in which expert Dr. David Starkey reveals the epic (and often bloody) history of the British royals. Bonus: The DVD collection is the longer, uncut U.K. version that was whittled down for Americans when it aired on PBS. Scandal and romance seep into modern-day stories in Lytton's Diary Complete Collection, which features fictional journalist Neville Lytton's knack for finding big stories, and big trouble. Both collections arrived August 3.
Other series in Acorn's cornucopia include The Diets That Time Forgot and Visions of Israel, both of which were released August 10. The former is a reality show that follows nine Brits trying to slim down on diets designed in different eras, in the hope of finding out why our grandparents were svelte -- and we're not. Visions, meanwhile, offers a break from all the calorie-counting with a travelogue about one of the world's most controversial countries. Following the brief interlude in the Middle East, Bethenny Frankel revives the fitness regime with Body by Bethenny with Bethenny Frankel, in which the real housewife shares her secrets for a slim bod.
Article continues below advertisement
Crime returns in full-effect Sept. 7, when Prime Suspect: The Complete Collection arrives with nine discs of mystery and a 50-minute behind-the-scenes segment. Helen Mirren (The Queen) stars as Det. Jane Tennison, while other luminaries such as Ralph Fiennes show up at times to boost both the intrigue and the star-power. Joining Det. T. on her release date is Det. Inspector Henry Crabbe (Richard Griffiths), the chef-sleuth star of Pie in the Sky, whose Series 3 is now ready for tasting on DVD.
PBS's eye-popping series, Joseph Campbell and The Power of Myth with Bill Moyers arrives two weeks later, on Sept. 21. Power arrives on DVD as a two-volume, boxed set with a handful of extra features, such as clips from Moyers's interview with George Lucas (he says Campbell inspired him to create Star Wars), a viewer's guide and other exclusives. Arriving the same day will be the utterly stylish spy series, Mr. Palfrey of Westminster Complete Collection, as well as the witty Scottish detective show, Taggart, Set 3.
Rounding out September's British TV invasion Sept. 28 will be tag-team mystery series The Lord Peter Wimsey Mysteries Set 2, and Midsomer Murders Set 16. Wimsey brings to life one of author Dorothy L. Sayers's leading men, while Midsomer features four stand-alone mysteries. The mysteries will be making their U.S. debut, but they already have at least one American fan in Johnny Depp. And if Depp digs it he'll no doubt pave the way for more of us Yanks to embrace cool Britannia, where sipping tea and solving crimes is all in a day's work.