Doting Dad Joel Madden's Rockin' Song For Baby Harlow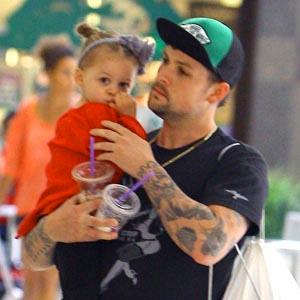 Rocker dad Joel Madden has penned a lullaby about he and Nicole Richie's daughter, Harlow, which will become a hit track on Good Charlotte's next album, RadarOnline.com has learned.
Harlow's Song was intended to be kept private, however when Joel's brother Benji heard the tune, he insisted it become public.
"I played it for Nicole and the kids and they loved it," says Joel.
"It was just for them. But then Benji heard it and he said we had to record it."
Article continues below advertisement
Benji was touched by the sincerity in the song, which will be on their new album Cardiology.
"They're some of the best lyrics he's ever written," says Benji.
"I love his daughter more than life itself, so I feel the same way. I said, 'This is going on the record no matter what'."
Madden and Richie's two-and-a-half-year-old daughter also appears in a clip for Good Charlotte's new single, Like It's Her Birthday.
Harlow appears in a YouTube teaser with her dad and uncle which was posted online last week.
RELATED STORIES: