Demi And Ashton Take Their Love Out To The Ball Park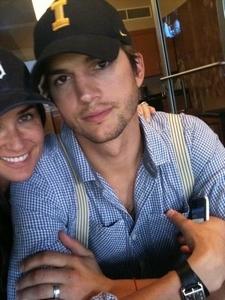 They're one of Hollywood's most glamorous couples but Ashton Kutcher and Demi Moore still know how to have fun!
The lovebirds spent Tuesday enjoying America's favorite pastime at the Detroit Tigers baseball game and Tweeted a romantic photo to all their fans.
"Checking out them Tigers (@ Comerica Park w/ 75 others)," Ashton wrote to his 5,376,340 followers as he watched the home team get beaten by the Chicago White Sox.
Article continues below advertisement
VIDEO: Ashton Kutcher Jokes About Heidi Montag
Demi, 48, is in the Motor City filming her new film LOL: Laughing Out Loud, and took some time away from set to hang out with her hubby. When a Twitter pal spotted her at the game, Moore replied "Work and play combined!"
The sports-obsessed pair is often spotted courtside watching the Los Angeles Lakers as they cheer on the NBA champions.