DC Housewife Michaele Salahi & Husband Tareq Served With New Lawsuit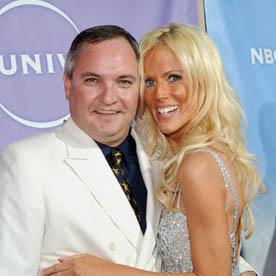 The fun just keeps on coming from those wacky White House gate crashers Michaele and Tareq Salahi.  The couple, now appearing on The Real Housewives of DC, is being sued by their former PR firm, RadarOnline.com has learned.
The pair was served the papers at their very own, very unauthorized-by-Bravo premiere party, The Washington Post's Reliable Source column is reporting.
The firm of Brotman-Winter-Fried Communications says it was hired in 2008 by the Salahis to promote a polo event, and was left with close to $15,000 in unpaid fees.  They decided to serve the couple at the premiere party they hosted at DC's EFN nightclub Thursday night. The papers ordered them "to appear in court to discuss their financial means - how they are capable of paying off the debt," president Steve Winter told The Reliable Source.
Article continues below advertisement
One answer may have come in what the Salahis did the next night.
According to the New York Post, the Salahis hosted a party at a NYC gay bar where tickets were $25 for admission with a cash-bar, or $150 for admission to the VIP room they called Housewives Circle where you actually got to meets the Salahis.
About 150 fans reportedly attended.  We're guessing one of them wasn't Whoopi Goldberg.