COURT: Survivor Producer Asks Judge For Forensic Expert To Examine Wife's Will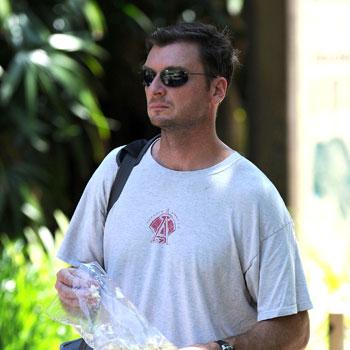 A court-ordered forensic expert will examine the authenticity of Monica Beresford-Redman's last will and testament, RadarOnline.com is reporting.
Bruce Beresford-Redman, the former Survivor Producer who is still wanted in Mexico over the killing his wife, asked a Los Angeles judge on Tuesday to appoint the specialist, amid an ongoing legal fight with his wife's surviving sisters.
Jeane and Carla Burgos are challenging the validity of the 2008 document, which names Bruce as the executor and gives Bruce's parents an interest in a house Monica owned.
Article continues below advertisement
The remainder of her property would go to Bruce, according to the will.
"I have no reason why I would not allow Ms. Hahn (Bruce's lawyer) to have her expert examine the will," said Judge Mitchell Beckloff, who set a date of August 6 for the forensic study to be completed.
At the centre of the legal joust is the claim that there are no witnesses to validate Monica signed the document.
The couple's former nanny, Maria Beatriz Oaxaca, who Bruce fired last month because she refused to support his innocence, is a potential key witness.
But the nanny reportedly says she knows nothing about Monica signing a 2008 will.
EXCLUSIVE VIDEO: Survivor Producer
"Ms. Oaxaca said that is her signature on the document but that's not the document that she signed," the Burgos' attorney, Richard Petty, told court.
Petty has submitted a different will -- from 2004 -- in opposition to Bruce's claim.
In another twist, the court was told Bruce's legal team is trying to find the couple's former cook, who is also said to have witnessed Monica sign the document.
MORE ON:
Monica Beresford Redman
Article continues below advertisement
Petty also asked the court to appoint a special administrator to oversee the affairs of the estate, specifically, in regards to insurance policies.
"There was discussion that Beresford-Redmans are having trouble paying the mortgage on the Rancho Palos Verdes house and I think there's a need for people to notify life insurance companies of the litigation and make sure mortgage payments are being made," Petty said.
But the judge said he would only consider such a move if evidence was presented to the court, which it hasn't, to date.
While an arrest warrant remains active for the television producer, who is accused of beating and strangling Monica to death, Bruce is free to go about his normal business in California.
He plans to fight any extradition plans, while Monica's sisters areconsidering filing a wrongful-death suit.