Cool Prints And Coke-Bottle Glasses: Best And Worst Wednesday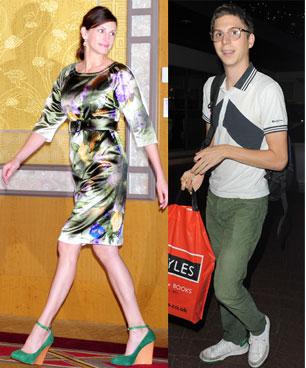 Gowns shimmering under the Paris stars, spiked shoes with summer dresses and goggle-like glasses – Best and Worst Wednesday has it all!
Style queen and Oscar winner Julia Roberts proved that she still has what it takes to turn heads all over the globe in a Dries Van Noten multi-colored floral print dress and green Celine suede wedges at the Tokyo premiere of Eat, Pray, Love.
Funny guy Michael Cera always makes us laugh – even when he doesn't mean too. The Scott Pilgrim Vs The World star was the definition of geek in thick glasses as he visited a book store in London. We hope he was fooling around but something tells us he may think this is stylish.
Article continues below advertisement
Always a red carpet winner, Angelina Jolie shone like the star she is in a Pamela Roland ivory silk lame dress and silver heeled pumps at the Salt premiere in Paris. The actress' arm tattoos provided the perfect edgy accessory to her sparkling gown.
Even edgier were the fabulous S&M-inspired Ruthie Davis Spike shoes that reality star Whitney Port wore with her Blue Moon Summer Lovin' dress to the shoe designer's event at Kitson Melrose.
Check out all the fashion hits and misses in our style gallery!