Celebs Aplenty Expected At Superdraft Weekend At Palms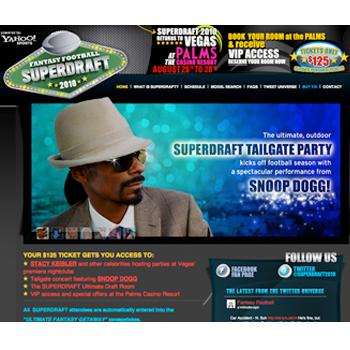 Football season -- make that Fantasy Football season -- is almost here and to kick things off right, the Palms casino in Las Vegas, in conjunction with Superdraft, is hosting a trio of special events August 27 in celebration of the hobby some of us will be consumed with from now 'till Christmas.
Exclusive Video Blog : Snoop Is Back
First that prank-loving Tweet bandit Ashton Kutcher will team with Nathan Zegura in The Lounge from 12 pm-5 pm to host a podcast for Fantasy Football Live, followed by his Celebrity Fantasy Football League Draft.
Article continues below advertisement
Then, head out to the Palms pool at 7:30 pm for a tailgate party and concert with the great Snoop Dogg. At 10 pm, you'll literally be dancing with the stars, when leggy WWE alum Stacy Keibler hosts a VIP Party at Rain Nightclub.
Last year's inaugural Superdraft event drew more than 2,700 players, attracting fantasy leagues from around the country to draft in an affordable, one-of-a-kind party environment.
Even if your draft day and venue is already set for 2010, check out www.fantasysuperdraft.com see what could be in store for 2011.