Caroline Manzo In Shock Over Teresa's 'Ugly' NJ Housewives Reunion Behavior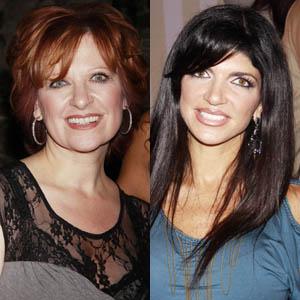 Real Housewives of New Jersey resident mama bear Caroline Manzo took to her Bravo blog Tuesday to address cast mate and friend Teresa Giudice's reunion rage against Danielle Staub during the exhausting 10-hour taping.
"I expected yelling, screaming, and tears. I NEVER expected Andy Cohen, the show's host to get tossed like a rag doll," she said of Teresa's brawl behavior in the first 10 minutes of the show. "I was in complete shock when that happened. Actually, I had to compose myself because I wanted to cry."
Article continues below advertisement
The only thing that came to her mind was three little words—WTF!
"When Teresa jumped off the couch and approached Danielle it was literally within the first ten minutes of filming. The only thing going through my mind at that moment, beyond the obvious WTF is going on, was that I couldn't sit through hours and hours of this. If this is happening now, what's it going to be like when we get to the real issues? Thank God it never got to that level again, it was an ugly moment. Ugly, ugly, ugly."
And she hinted at what may become of the housewives in the future—will some go their separate ways?
"Those ten hours were my last chance to say what I had to say. It was the last time we were all going to be together and there were some issues that needed to be addressed," Caroline wrote. "I take full responsibility for what I said, and how I presented myself. Trust me, I had a range of emotions as I watched from happy to sad, proud to embarrassed."