AUDIO: Drunk Woman Calls 911 - Looking For Love!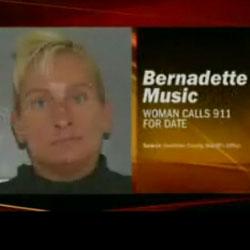 Don't drink and drive -- and don't drink and dial.
An Ohio woman learned the latter lesson the hard way after she called 911 looking for love, and RadarOnline.com has the audio.
Listen to the audio on RadarOnline.com
Police say Bernadette Music, 43, was drunk when she called the emergency line four to five times on July 26, and told two dispatchers she was looking for a boyfriend.
Article continues below advertisement
She even described what kind of man she's looking for.
Dispatch: "Hi, this is Norwood 911 do you have an emergency?...."
Caller: "I'm having a hard time getting a hold of...you know a date line....everyone wants to (inaudible) with me around.... My name is Bernadette Music. And i look healthy I'm 5'1 and ok...I weigh 120 pounds...."
Man Who Called 911 "Appalled" By Racist Remarks At New Jersey Wal-Mart
Dispatch: "Wow, that is better than what I weigh."
Police say although the call may sound funny, it's no laughing matter.
"You know she is tying up our valuable resources She's holding our dispatchers up. Our officers are trying to locate her and she got locked up for it," said Lt. Tom Williams of the Norwood, Ohio police department.
EXCLUSIVE AUDIO: Hear The 911 Call From Woman Claiming Dennis Rodman Assaulted Her
Police say when they arrived at Music's home, she initially refused to answer the door, and then urinated on the floor outside her apartment before she was arrested and taken away.
She's been charged with two counts of disorderly conduct.