Around The World With Angelina Jolie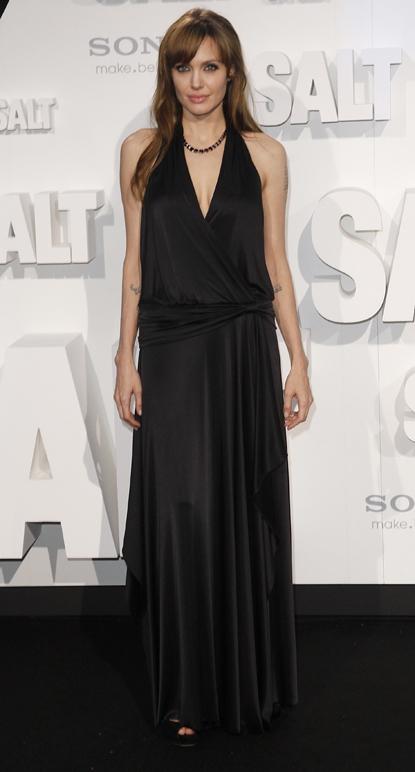 Instead of traveling with her kids or helping the needy, Angelina Jolie's latest globe-trotting adventures have been a glamorous whirlwind as the actress promotes her new movie, Salt.
With each city-stop and media-frenzied premiere, Angelina has showcased a hot new look. Her latest style success was at the Berlin, Germany premiere on Wednesday where the 35-year-old actress returned to her old gothic fashion roots in a dark and dramatic BCBG gown.
Article continues below advertisement
Earlier in the day she made a conservative choice for a photocall in a deep green fitted cap sleeve cocktail dress by Elie Saab, which was a perfect daytime look and a fitting contrast to the sparkly cocktails dresses and long gowns that she's worn for the evening premieres.
However Angelina says it's not her designer clothes that make her sexy, but her lifestyle and attitude - along with her hot man!
"I think you feel sexy if you live an honest and bold life," she said, reported Us Weekly.
"Maybe living life the way I've always lived it had something to do with that, but really, what makes me feel sexy is Brad. He always makes me feel sexy and desirable."
In her new action thriller, Jolie plays a spy who is an expert in disguise (and kick-boxing!) so it's apt that Angelina had an exciting array of different outfits as she showcased the role.
From Russia to Korea, and London to L.A., check out Angelina's ever-changing looks as she visits some of the world's most stylish cities.