Exclusive
WORLD EXCLUSIVE: Photos Show Mel Gibson Bruised His Baby After His Clash With Oksana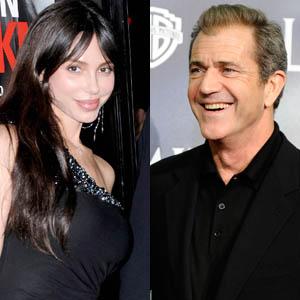 Oksana Grigorieva says Mel Gibson hit and bruised his baby daughter -- and there are photos to prove it, RadarOnline.com has exclusively learned.
EXCLUSIVE: Mel Gibson Pulled Gun On Oksana When She Tried To Leave His House
The images, which show baby Lucia with a bruise on her chin, are part of Oksana's sealed declaration to the court, a source with knowledge of the situation told RadarOnline.com exclusively. And those photos will be a vital piece of evidence Oksana will use in court in Los Angeles Thursday when she goes before a judge in her custody battle with Mel.
Article continues below advertisement
On January 6 Mel and Oksana got into a vicious argument and that is when Mel punched her in the face, knocking out her two front teeth, Oksana has told authorities. She says that she was holding their infant daughter when Mel punched her and that he also hit the baby.
It's a bombshell development in the war between the former lovers. Their daughter was only two months old at the time of the alleged incident and the source, who has direct knowledge of the photos, says it is unmistakable that the infant is bruised.
This evidence -- together with the secretly-recorded tapes published exclusively by RadarOnline.com -- are crucial to Oksana's argument that Lucia should not have any contact with her father.
As RadarOnline.com first revealed the Russian musician has the secret evidence against her one-time lover stored on a DVD, including the phone tapes.
The explosive recordings were obtained exclusively by RadarOnline.com and first exposed the shocking charge that Mel hit her while she was holding his love child.
Article continues below advertisement
In one, Oksana asks the disgraced actor, "What kind of a man is that... hitting a woman when she's holding a child in her hands?"
Mel responds: "Oh, you're all angry now! You know what, you f*cking deserved it!"
Mel asked a Los Angeles court to seal the evidence. That order was granted.
"The photos show a small bruise on Lucia's chin," according to a source familiar with the court file, under seal.
In another of the tapes, Mel is heard telling Oksana he plans to seize custody of their daughter.
"I will have that child easily," the Braveheart star insists, to which Oksana responds, "You will not have this child."
Now a judge is being asked to decide.
RadarOnline.com will bring you the latest on Thursday's Mel/Oksana court showdown as it happens.