Exclusive
WORLD EXCLUSIVE: Mel Gibson Caught On Tape Admitting He Hit Oksana -- "You F**king Deserved It"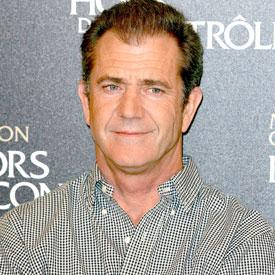 Mel Gibson is caught on tape admitting that he hit the mother of his love child, RadarOnline.com is reporting exclusively.
It's another bombshell development, following our world exclusive when we revealed that Mel was taped spewing a vile, racist rant, telling Oksana Grigorieva, "You look like a f***ing pig in heat, and if you get raped by a pack of n***ers, it will be your fault."
Now, RadarOnline.com is revealing even more content from the tape and this time Mel admits to hitting Oksana twice in the face while she was holding their baby daughter Lucia.
Article continues below advertisement
On tape, a teary Oksana is heard asking Mel, "What kind of a man is that who would hit a woman when she is holding a child in her hands, hitting her twice in the face?
"What kind of a man is that?" the Russian musician repeats.
The Braveheart star responds: "You know what — you f**cking deserved it."
RadarOnline.com has heard the tape.
Mel's sickening "you f**cking deserved it" admission sheds new light on the he-said, she-said battle that has been raging between Oksana and Mel for the past several weeks.
His legal team has insisted Mel did not hit Oksana and that they had only a loud argument. The disputed event apparently took place January 6 in his Malibu mansion.
But sources close to Oksana claimed she was left bloodied and bruised and had her two front teeth knocked out during the violent confrontation.
The emergence of this part of the tape is the latest and nastiest development in the couple's bitter legal battle.
Article continues below advertisement
MORE ON:
Oksana Grigorieva
Mel and Oksana have each filed court orders against each another in recent weeks.
Gibson also sought a court order, in a desperate bid to keep his ex from releasing a DVD which apparently includes the recording and photos of Oksana after the brawl.
Gibson's camp has been on a hunt to find who released the tape.
His lawyers want to know if Oksana did it.
Article continues below advertisement
Grigorieva's lawyers "vehemently denied" she leaked the tapes and for the first time, RadarOnline.com can reveal Oksana did not release the recording to us.
But we've learned that she decided to record Mel after he made a series of death threats against her.
Mel told Oksana, "I am going to come and burn the f---ing house down.
"How dare you act like such a b---h when I have been so f---ing nice?"
Drunken Mel previously shocked the world with his anti-Semetic comments when busted for DUI.
"The Jews are responsible for all wars in the world," he ranted to police, in 2006.
He famously went to rehab after that incident but as yet, has not apologized or acknowledged wrongdoing in these latest hate-fuelled outbursts.