Vienna Girardi Wants You On "Team Vienna"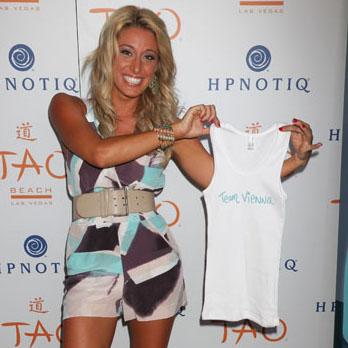 Vienna Girardi is definitely enjoying her post-Jake Pavelka lifestyle. Saturday she hosted Hpnotiq Celebrates Single & Fabulous at TAO Beach in Las Vegas, and RadarOnline.com found her enjoying every minute of it, especially when she showed off her "Team Vienna" tank top.
With her engagement to The Bachelor star Jake now a distant memory, Vienna is in high demand on the party-hosting circuit. And she's no doubt looking for the next man of her dreams.
Article continues below advertisement
On Friday, RadarOnline.com broke the news that right before she left for L.A. to shoot The Bachelor, Vienna asked her then-boyfriend Brian Lee Smith to marry her!