VIDEO: Who's That Bride? Chelsea Clinton Pulls Hat Trick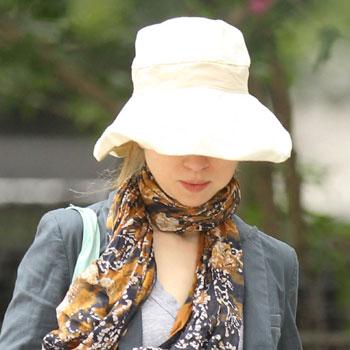 Could this be the start of a new fashion trend?
Watch the clip on RadarOnline.com
Just days before her wedding, bride-to-be Chelsea Clinton hid for cover under a huge, floppy straw hat Tuesday while visiting the Vera Wang showroom in New York, which according to NBC, is likely to outfit the bride, her bridesmaids and flower girls for the lavish gala this weekend.
The renowned designer has also made wedding dresses for celebs such as Jennifer Lopez, Ivanka Trump and Mariah Carey.
Article continues below advertisement
Also spotted visiting the showroom Tuesday was her mother, Secretary of State Hillary Clinton, who was seen checking out the local Oscar de la Renta showroom, as well.
The much-ballyhooed wedding -- rumored to be happening at New York mansion Astor Estate on Saturday -- is expected to cost Hillary and her hubby, former President Bill Clinton, anywhere from $3 million to $5 million.
Chelsea, 30, is marrying her childhood pal, Goldman Sachs investment banker Marc Mezvinsky, 32, after five years together. Mezvinsky also has a political pedigree, as his mother Marjorie and father Edward have both served in Congress.