VIDEO: Project Runway New Season Sneak Peek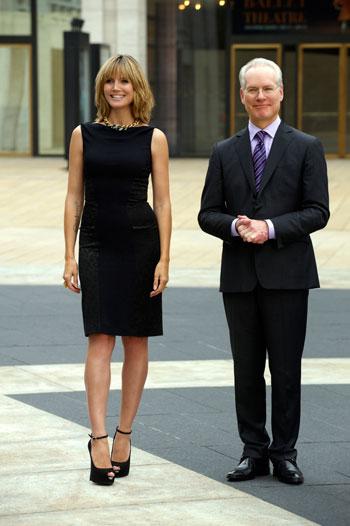 The season eight premiere of Project Runway is just around the corner, and Radaronline.com can bring you the details on what to expect according to none other than the show's fashion guru Tim Gunn.
EXCLUSIVE: Project Runway Contestant Already Celebrating Hard
The new hour and a half format, Tim says, will show more of supermodel and host Heidi Klum, fashion editor Nina Garcia, designer Michael Kors and the guest judges' interviews with the designer contestants, as well as the judges' deliberations, which he says can last up to six hours.
Article continues below advertisement
There will be drama this season too. Tim reveals: "There's a designer this season who takes it upon him- or herself, I don't want to reveal a gender, to walk around to the designers after I've done my critique to add comments about this designer's viewpoint of whether I gave each designer good advice or bad advice and what this particular designer would advise them to do.
"I reached a point where I will say I became rather frustrated by it because I thought I don't want this individual to be undermining what I say."
Project Runway Returns Season Six With Heidi Klum and Lindsay Lohan
About this season's cast, the fashion guru says the group is fragile.
"It's a very interesting group and in terms of the chemistry among them, one that I've never really experienced in a prior season. They're fragile in terms of their emotional well being. They're fragile in terms of their ego. So I always felt as though I was tiptoeing around glass that I didn't want to break while still delivering what I'm responsible for delivering and what's good for them"
Article continues below advertisement
EXCLUSIVE: Project Runway Designer Accused of Copying Designs
There are 17 designers this season, more than ever in the show's history. The first episode is actually still part of the audition process in order to get the group of designers down to the usual number of 16, because Gunn says they had trouble making a final decision due to how talented the group is.
Tim reveals he's "probably more emotional this season than he's ever been."
The new season of Project Runway premieres on Thursday, July 29th, at 9/8 central on Lifetime.
Check out a sneak peek from the premiere episode here on RadarOnline.com.