VIDEO & PHOTOS: President Barack Obama Appears On The View Thursday; Rosie O'Donnell Criticizes Appearance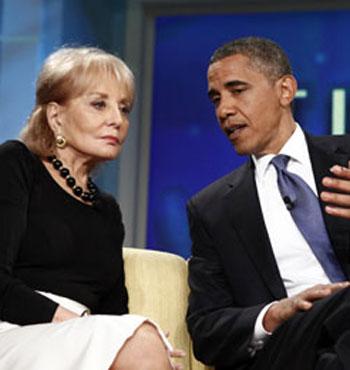 President Barack Obama Thursday becomes the first sitting U.S. president to appear on a daytime talk show - The View - and even before its aired, he's already catching flak from critics such as ex-View co-host Rosie O'Donnell, who says the commander-in-chief should be focusing his energies elsewhere.
Watch the video on RadarOnline.com
"I don't really think sitting presidents should do fluffy daytime TV shows," O'Donnell said on her XM talk show Wednesday in reference to the appearance.
Article continues below advertisement
New York Daily News writer S.E. Cupp, in an editorial titled, "Two wars, oil crisis, crashed economy and he's whooping it up with Whoopi," put the issue in similar perspective.
"Obama will surely discuss the state of the nation on 'The View,' in between coos and leg pats from Sherri, wisecracks from Joy and earnest pseudo-journalism from Elisabeth," she wrote, "but it's unlikely he'll change the minds of voters who are increasingly unimpressed that our President is a wiz at self-promotion, but no good at steering the nation through these tricky straits."
Mr. Obama, who appeared on the ABC staple twice prior to being elected president, said it was his wife's fondness for the daytime talk show that made him want to appear.
"Look, I was trying to find a show that Michelle actually watched, and so I thought this is it, right here," he told the panel of The View, according to ABC. "All those new shows, she's like, eh, let me get the clicker."
President Obama taped his interview with The View on Wednesday. It airs Thursday on ABC at 11am/10c.
The View creator and co-host, Barbara Walters, made a special appearance for the President's interview. Walters has been on extended vacation since undergoing heart surgery, and plans to return to the show full-time in September.