VIDEO: Meet Aldi Suganda - The Chain-Smoking 2-Year-Old Boy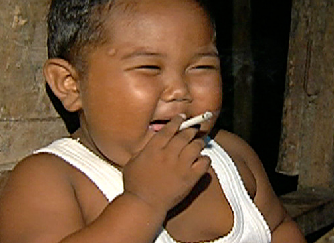 Aldi Suganda is the 2-year-old who's become the latest Internet sensation after a series of YouTube videos of the boy -- a chain-smoking toddler with a two-pack-a-day habit -- have garnered millions of hits in recent weeks.
Watch the video on RadarOnline.com
CBS Early Show caught up with Aldi's family in their Indonesian homeland of Sumatra Wednesday, and talked about the boy's taste for tobacco, which they said began when he was just 11-months-old.
Article continues below advertisement
"He was being very fussy, always cried when we were there to sell," his mother Diana said through an interpreter. "So, we just let him play by himself. One day, we followed him from behind and found him hanging out at a cigarette stall. He had a cigarette in his hand, already lit. He already knew how to do it very well, like an adult. It was actually his own wish.
"If he can really quit smoking, he will definitely be a very healthy boy, without any disease," his mother said. "But now, I don't know of what will happen in the future."
Smoking in Indonesia is quite common, authorities said, as more than a third of the country's population tends to light up.
"Over 31 percent of Indonesian children smoke a cigarette before the age of 10," Campaign for Tobacco-Free Kids spokesman Matthew Myers told CBS. "The reason is that the Indonesian government has completely failed to educate its public and has allowed the tobacco industry to engage in marketing practices that haven't been permitted in the United States for years."
Said his mother: "Nowadays, he smokes one pack a day, two packs at most. We surely hope he will quit, that he will be like any other kid, not smoking. But I can't stand seeing him hurting himself. What can we do but to accept it is as it is?"