SMASHING VIDEO: Smashing Pumpkin's Billy Corgan Collapses On Stage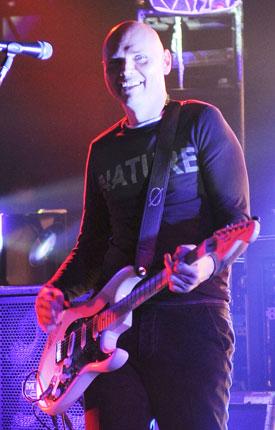 Smashing Pumpkins singer Billy Corgan's dramatic stage collapse was caught on camera by a fan in the audience, and RadarOnline.com has the video.
In the clip, Corgan can clearly be seen fainting and falling down, before rising to his feet during a performance of Bullet With A Butterfly at the Ritz Ybor in Tampa, Florida on Wednesday night.
Jessica Simpson And Billy Corgan Make Sweet Music Together
Following the incident, the 43-year-old rocker Tweeted: "I have no memory of falling against the drum riser and my guitar cabinet, but I can tell you I've got quite a bruise and am moving slow.
Article continues below advertisement
"And for those of you who saw me fall last night during Bullet, that wasn't a stage move or clumsiness, that was me blacking out and wiping out."
AUDIO: Jessica Simpson Says Billy Corgan is a "Very, Very Dear Friend"
The frontman from the famous Chicago band seems to have made a full recovery as they are still scheduled to perform in Knoxville, Tennessee, Friday, July 23.
Following his fall, Corgan seemed in good spirits on Thursday after telling fans via Twitter that he went on a tour of the wrestling company TNA's offices in Nashvillle and also went out to lunch with a friend.
Madonna's Stage Collapses; One Person Dies
The Smashing Pumkins will perform a benefit concert next Tuesday, July 27 at Chicago's Metro to raise money for medical care for Matthew Leone, bassist for Chicago band Medina Lake.