Tiger Woods Admits Personal Troubles Are Hindering His Golf Game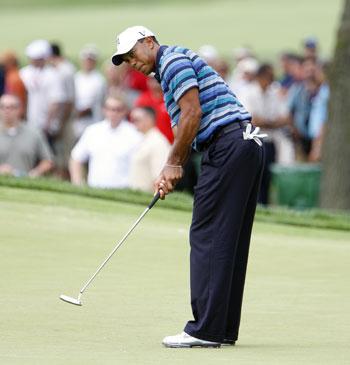 Tiger Woods is back on the course, but he is from from being back on top as he continues to struggle on the green.
The golfing great recently admitted that his personal struggles - his broken marriage to Elin Nordegren, lost endorsements, and the humiliation caused by his cadre of mistresses going public - are adding to his recent professional lapses.
"Outside the ropes there are certainly still distractions. It is what it is," Woods said at a press conference on Wednesday. "I think everyone has had distractions in their lives but I think that my life out here on tour is becoming more normalized."
Article continues below advertisement
At his more recent tournament, the AT&T National in Philadelphia, Woods was out of contention by the end of the first round.
"I just putted awful, really," he said. "It was a very frustrating day on the greens, especially how good I was driving it."
Woods hopes that people will give him some slack while he tries to get his game back together. "You're not always going to go through life perfect. No one does," he said.
"When you make a mistake, step up to the plate and take ownership of it."