STYLE RADAR: Best, Worst And Wackiest Fashions Of The Week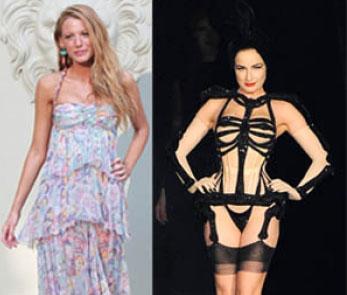 From inflatable swimming wings and bras to MC Hammer pants and fanny packs, stars sported some wacky and tacky fashions this week, but thankfully the powers that be put Paris Haute Couture Fashion Week on the style schedule, where glamazon gals walked the red carpet in devastatingly divine duds.
Jessica Alba was the Lady in Red of the fiercely fashionable week, hitting the Chanel show in a Spring 2010 embroidered white mini, which featured a slender red belt and then making her way over to Valentino, where she modeled a gorgeously ruffled, one-shouldered gown from the designer's Spring 2010 collection. Painting her pout in scarlet lipstick, the brunette beauty ravished. Claire Danes looked anything but mellow in a multi-shaded Valentino strapless, while Gossip Girl duo Blake Lively and Leighton Meester rocked night-and-day looks at Chanel.
Article continues below advertisement
Dita von Teese stole the spotlight away from the other catwalk crawlers at the Jean Paul Gaultier show, shedding her gorgeously designed black gown to reveal a barely decent, sequined, bandage corset. Mind you, there were children sitting in the front row as she strut her stuff with her bum fully exposed!
Lil' Kim also rocked underwear as outerwear in Canada, while Kelis attempted to bring back some unfortunate 1990's trends, while hopping on a flight in London.
What tennis champ hit a grand slam in Burberry? Check out the gallery in Style to find out.