STYLE RADAR: Best, Worst And Wackiest Courtroom Couture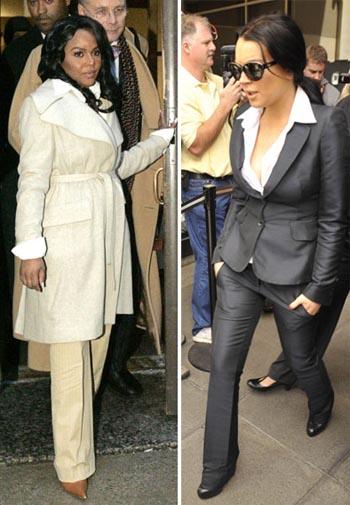 Lindsay Lohan's recent ensemble escapades in the courthouse, which included an expletive manicure and dangerously low cut blouse, had everyone talking, but the jail bound starlet isn't the first celeb who has gone before the law in questionable couture. While some stars opt to clean up their image when they get a nudge from the judge, others use the courtroom as their own personal runway, and the result can be worthy of a fashion police arrest!
Article continues below advertisement
We were beyond shocked in 2005, when Lil' Kim entered the courtroom in startlingly sophisticated style. Famous for cavorting around the stage in pasties and g-string panties, the 29-year-old showed up dressed to impress in gorgeous gabardine suits and cashmere peacoats. However, her rehabilitating style didn't get her off the hook. She was found guilty for perjury and conspiracy and needless to say, when she was released from jail, the Notorious K.I.M returned.
Nicole Richie channeled Old Hollywood glamour during her DUI courtroom ordeal, and her supportive beau Joel even covered up his tattoos for the judge.
Rihanna held her head up high, sporting a demure 'do instead of a brightly colored Mohawk, during her domestic abuse trial, while her ex, Chris Brown shaved a lightening bolt in his hair.
As for wacky? Leave it to Randy and Evi Quaid to spice things up at the courthouse. While Evi rocked a super short and tight LBD, her partner in crime wore a t-shirt from one of his favorite Beverly Hills hotels. Isn't that ironic, considering the charges against them involved their infamous stay at another luxurious California hotel? Oh well, at least the crazy couple managed to show up!
Who else shocked and rocked in the name of justice? Check out the gallery in Style and find out.