Exclusive
EXCLUSIVE: Leo DiCaprio Pulling Out Of Mel Gibson Movie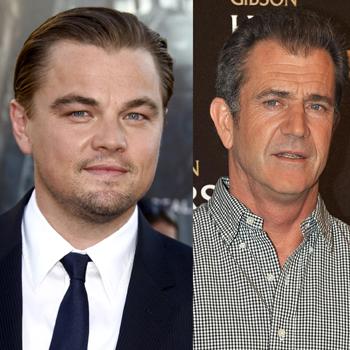 Leonardo DiCaprio is withdrawing from a Mel Gibson-directed flick about vikings in the wake of the domestic abuse scandal, RadarOnline.com has exclusively confirmed.
"Not a chance," said a source, close to the Inception star, when asked if he was still planning to star in Gibson's next project.
The decision is a major setback for the Oscar-winning actor/director, who is facing allegations of domestic abuse and child endangerment.
Article continues below advertisement
It also lends support to critics who are suggesting Mel won't be able to recover from the Oksana Grigorieva scandal.
Oksana, 40, has accused Gibson, 54, of punching her in the face twice as she held their infant daughter Lucia during a domestic dispute at his Malibu mansion on January 6.
WORLD EXCLUSIVE PHOTOS: Bruised & Battered Oksana Grigorieva After Brawl With Mel Gibson
After allegedly hitting Oksana on the head and mouth, she has claimed, Mel then choked her.
Detectives from the Los Angeles Sheriff's Department detectives are investigating the allegation along with Mel's claim that Oksana tried to extort him with threats of a scandal.
Mel was interviewed on Sunday but refused to answer questions about the incident, citing his Fifth Amendment right against self-incrimination.
Mel's profane-laced rants, recorded by Oksana and obtained by RadarOnline.com, are laced with racial slurs -- including the N-word -- and demands for repeated sexual favors.
Article continues below advertisement
The viking film was to be DiCaprio's first picture with Mel.
A source close to DiCaprio said the star, who is currently basking in the release of his wildly acclaimed box-office topping movie Inception, did not want to risk his reputation, with being associated with Mel.
"Leo has earned the right to pick and choose who he works with and Mel Gibson is not one of them," the source added.
The as-yet untitled project is being produced by Graham King and Mel's Icon Productions.
Variety had previously reported DiCaprio had long been fascinated by Viking culture and was poised to play one in a storyline that will be as unsparing as Mel's other period directing efforts, Braveheart, The Passion of the Christ and Apocalypto.
Before DiCaprio's withdrawal, shooting was slated to begin in fall 2010.
Comment is being sought from DiCaprio.