Sexy And Sloppy In The City: Best And Worst Wednesday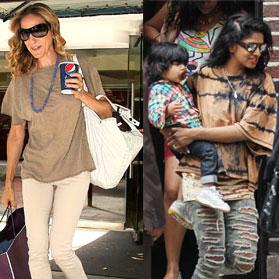 Sarah Jessica Parker has been keeping a low profile lately, so we were excited when she popped up on our RadarOnline.com Tuesday afternoon in totally chic summer style. The Sexy star stepped out of her NYC apartment in a refined casual ensemble, which consisted of skinny stone-toned jeans, a paper-thin beige t-shirt, smashing stilettos and an oversized white bag. We love how the amazingly attired actress added a dash of color to the mix with her amethyst beaded baubles.
Article continues below advertisement
Meanwhile, at The Late Show with David Letterman, sassy singer M.I.A. showed up to meet with the legendary talk show host in truly sloppy style! Wearing a burnt orange tie-dye t-shirt over a longer crushed velvet top with totally torn up jeans, white tube socks and Dr. Scholl's-like sandals, she performed "Born Free" from her new album, surrounded by backup dancers in identically offensive duds!
MORE ON:
Kristin Chenoweth
Spencer Pratt dressed up in Grandpa gear for The Hills Finale bash in Hollywood, while Sofia Vergara continued her sizzling style streak in Italy, in a color-popping maxi dress. Jessica Biel and Rachel Bilson both looked fab in haute headgear, while Ashley Greene looked casually chic in Los Angeles.
What Worst Dressed re-offender scored herself a slot on the Best list, finally covering up her artificial assets? Check out the gallery in Style to find out.