M.I.A ?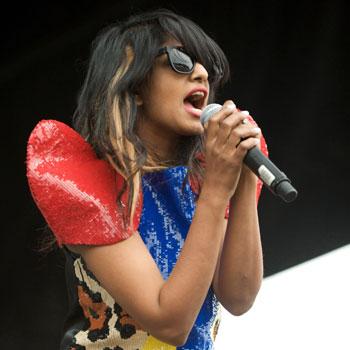 The name of M.I.A.'s new album is a tad confusing—///Y/—but it's really just a fancy way of saying Maya. The Londoner-by-way-of-Sri Lanka is back with her third album and plenty more of her unique blend of hip-hop, dancehall, world music and clever rhymes set to catchy beats. "I wanted to make something more personal, and more organic, and real, and that connected to my life," M.I.A. said recently of her time recording the album, after just giving birth. She set up a comfy mini-studio in her home so she could keep a close watch on the baby and the set-up was just what she wanted. "There was no pressure, basically. And that was the most important thing to me was, at the time, not being in this huge studio that cost so much money, with all these people and engineers, and you know, like, with the pressure of making hits."……
Article continues below advertisement
On Symphonicities, Sting offers up symphonic versions of his hits, both solo and with The Police…
HELLYEAH is a metal supergroup featuring members of Pantera, Mudvayne, Nothingface and Damageplan and the band's new album is called Stampede....
Tracy Bonham self-produced her new album, Masts of Manhatta…
Crowded House is back with a new CD/DVD entitled Intriguer…
Danger Mouse & Sparklehouse Present Dark Night of the Soul features a slew of impressive guests, including Iggy Pop, Julian Casablancas, Black Francis, The Flaming Lips, Suzanne Vega, Nina Persson, Gruff Rhys, David Lynch and Vic Chesnutt….
KoRn's new album is KoRn III: Remember Who You Are….
30 Rock star Jane Krakowski releases The Laziest Gal in Town…
Morcheeba reunited with original vocalist Skye Edwards for Blood Like Lemonade….
Marc Almond offers up his first album of self-written material in 10 years, Variete….
Brooklyn-based, Denmark-born rock trio New Politics release a self-titled album…