Sen. Scott Brown Rips Kathy Griffin For Calling His Daughters 'Prostitutes'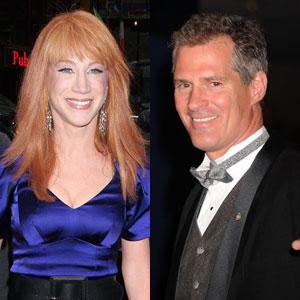 Not everyone is laughing about Kathy Griffin's latest joke - especially one of the newest high-profile U.S. Senators.
Earlier this week, on Griffin's Emmy Award winning reality TV show, Kathy Griffin: My Life on the D-List, the red-headed comedienne was given a political quiz by her guests of CNN fame, John King and his wife Dana Bash. In it, they held up a picture of Brown, prompting Griffin to identify the man in the picture as, "Scott Brown, who is a senator from Massachusetts and has two daughters that are prostitutes."
Article continues below advertisement
VIDEO: Kathy Griffin 'Heartbroken' Over Levi Johnston's Engagement; Has New Crush!
Then, to cover its behind, Bravo flashed a graphic on the screen, with Griffin reading the words: "And now a brief message from Bravo's Legal Team: Scott Brown's daughters ARE NOT prostitutes. We now return you to our regularly scheduled negativity."
Needless to say, the senator was not amused.
"People can call me any name they want, but families are off limits," Brown told the Boston Herald. "I love my daughters, Ayla and Arianna, very much, and any parent would be proud to have them as children. Kathy Griffin and Bravo ought to be ashamed of themselves."
Brown, in his acceptance speech earlier this year, publicly declared his daughters were single. The first Republican elected in the left-leaning state in three decades, Brown was elected January 20 to fill the seat once held by the late Sen. Edward M. Kennedy.