VIDEO: Kathy Griffin 'Heartbroken' Over Levi Johnston's Engagement; Has New Crush!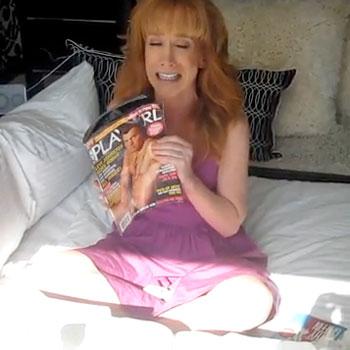 The always hilarious Kathy Griffin says her heart 'broke' on Wednesday when it was announced that her crush Levi Johnston is engaged to Bristol Palin.
But leave it our favorite red-headed funny girl to bounce back quickly! Kathy is dealing with her 'heartbreak' the only way she knows how -- with humor, and RadarOnline.com has got the video for you.
Watch the video on RadarOnline.com
In typical D-List style, Griffin takes every opportunity to promote herself while 'weeping' over Johnston's infamous Playgirl magazine spread.
Article continues below advertisement
VIDEO: Levi Johnston Gives Kathy Griffin A Sneak Peek At His Playgirl Spread
As RadarOnline.com previously reported, Johnston and Palin reconnected three months ago while working out custody of their 18-month-old son, Tripp.
"We got engaged two weeks ago," Palin told Us Weekly, which first broke news of their engagement. "It felt right, even though we don't have the approval of our parents."