Rapper Foxy Brown Arrested; Charged With Public Lewdness, Menacing and Harassment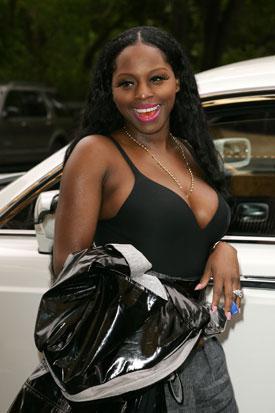 It seems to be déjà vu for Foxy Brown all over again.
The notorious '90s rapper has had yet another run-in with the law, landing her in handcuffs after an explosive and profanity-laden argument with her Brooklyn neighbor, who has a restraining order against Foxy stemming from an incident between the disgruntled pair in 2007 - and RadarOnline.com has all the details.
According to the Brooklyn district attorney's office, the incident happened at 5:10 p.m. on Wednesday after the 30-year-old Foxy got into an altercation with her neighbor Arlene Raymond. Foxy - who's been released on $5,000 bond - is being charged with public lewdness, menacing in the third degree and harassment in the second degree.
Article continues below advertisement
She will be arraigned on Thursday, at which time she is expected to enter a plea.
Our source told RadarOnline.com that Foxy approached Raymond and said, "B**ch what the f**k are you looking at?" and lifted up her skirt.
The D.A. spokesperson added that the rapper "started screaming at the neighbor and told her to 'kiss her a**.'"
Raymond has a restraining order against Foxy, which led to the entertainer's arrest for being in violation of the order of protection.
Almost three years ago to the day on July 30, 2007, Foxy was accused of hitting Raymond with her Blackberry when Raymond complained that Foxy was playing her car stereo too loud. As a result, Raymond suffered an abrasion above her right eye, a loose tooth and a swollen lip.
But Foxy is no stranger to the pokey. On September 7, 2007, a New York judge sentenced Foxy to one year in jail for violating her probation that stemmed from a 2004 fight with two manicurists in a New York City nail salon.
Yet despite her stint behind bars on Wednesday, the rapper is not looking at it as a setback. Instead, she's looking forward to her NYC comeback and is still confirmed to perform at B. B. King Blues Club & Grill on Sunday, according to the club's promoters.