PHOTOS: Wackiest Teen Choice Awards Fashion Over The Years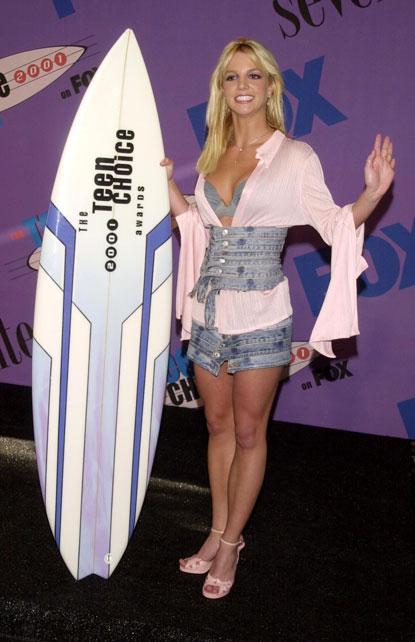 The Teen Choice Awards is always a star-studded affair. Over the years, some of the most eye-raising action didn't happen onstage but on the red carpet! RadarOnline.com is bringing you the craziest looks from past shows.
Gwen Stefani may be one of the fiercest fashionistas around, but the 2001 Teen Choice Awards winner didn't always have such happening style. The No Doubt singer stepped onto the carpet pairing a red triangle bikini top, which featured a star print, with men's underwear popping out of the top of her baggy "Rock Steady" jeans.
Article continues below advertisement
Remember the days when Britney Spears had one of the most sought after bodies in town and she wasn't afraid to flaunt it?
Though we love seeing her taut and toned figure, we couldn't quite get over the deconstructed denim look she rocked over a pink, wing-sleeved blouse in 2001. The lowlight of the look had to be the denim corset wrapped around her tiny waist, which coordinated with her mini skirt.
Destiny's Child always managed to grab attention on the carpet with their wild and wacky wardrobes designed by Beyonce's mother. In 2001 the trio stepped out in matching ensembles constructed out of neon yellow doilies.
Lil' Mama's lipgloss may have been poppin' in 2008, but her red carpet attire definitely wasn't!
This year's show will air on August 9 on Fox at 8 PM. Fans ages 13-19 can vote each day for their winner picks at www.teenchoiceawards.com.