PHOTOS: Taylor Lautner Loses His Shirt - Again!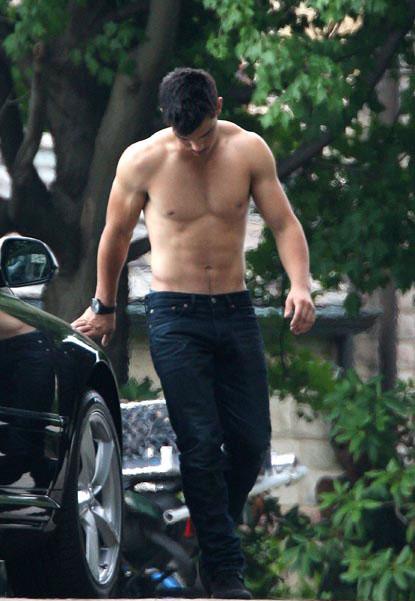 Summer's not even over yet, but we can already start listing things we're thankful for -- and shirtless pictures of Taylor Lautner ranks high on that list!
RadarOnline.com has these new pics of the chiseled 18-year-old heartthrob, who got his big break as Jacob Black in Stephenie Meyer's Twilight series, as he was snapped Thursday on the set of his upcoming film Abduction in Pennsylvania.
Lautner recently said in an interview with NBC said that since Twilight, he's been asked to lose his shirt in just about every film he appears in -- even if it has nothing to do with the storyline!
Article continues below advertisement
Lautner, discussing this spring's Valentine's Day, brought up a scene in which he was supposed to take off his shirt -- while walking to school.
"I was like 'what?' That doesn't even make any sense!'" Lautner said.
Abduction, which hits theaters next year, is directed by John Singleton, and co-stars Maria Bello. If you can't till then to get your Taylor fix, Eclipse is in theaters now.
EXCLUSIVE VIDEO INTERVIEWS: Twilight Fans Camp Out, Meet Eclipse Stars Before LA Premiere