PHOTOS: Spencer Pratt's 3D Boob-Filled Beach Movie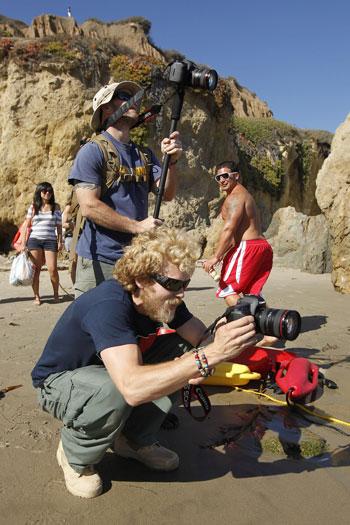 For his latest venture, former reality star Spencer Pratt is jumping behind the camera.
Pratt was spotted at El Matador Beach on Thursday, running along the beach with camera in hand as a cast outfitted like lifeguards ran towards him in a Baywatch-style scene.
"Just shot some amazing film for my micro-budget rated r beach comedy I am producing TOWER 69: BEACH PATROL featuring 3 D BOOBS," Pratt wrote on is Twitter page.
Article continues below advertisement
One of the props on the set read: "Need budget money for 3D boobs."
There will be at least one familiar MTV face onscreen. Emilio Masella, the ex of Jersey Shore's Snooki, filmed a scene in which he kissed a beautiful blonde in the ocean.